While most of the news today is focused on the Coronavirus outbreak, I can't help but think of the 24 people that lost their lives, dozens still missing, and literally hundreds of homes completely destroyed in the wake of the tornado that barreled through central Tennessee this past week. While the death toll from the virus spreading across the U.S. is slowly climbing and a solution nowhere to be found, in an instant countless lives are forever and unnecessarily changed following each severe weather event when quite frankly there is a definitive solution to preventing such devastating loss. We can never prevent a hurricane or tornado from striking our homes but we can absolutely protect all inhabitants by choosing to modify how we build the structures that are supposed to protect us.
Doubtful that anyone today would choose to purchase a car that didn't include safety features such as air bags and anti-lock brakes. Auto manufacturers have continuously raised the bar, and marketed these advances to a willing public including collision avoidance systems, crumble zones, lane departure warning and even autonomous driving options. So why has the building industry's advancement in safety most closely resembled simply adding seat belts. That's what I am reminded of when I see little strips of metal 'hurricane straps' attach one piece of framing lumber to another – it's simply not nearly enough – just ask the second little pig.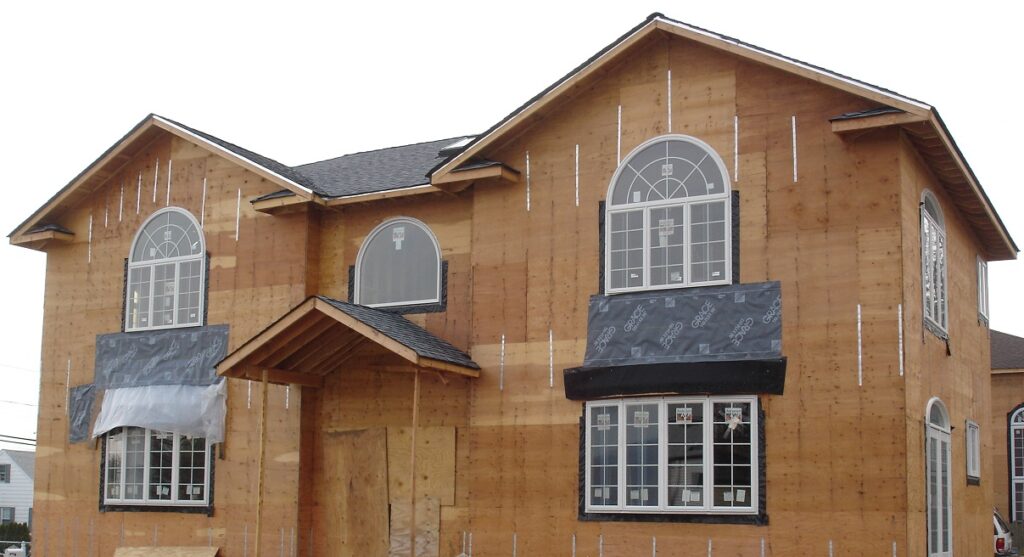 Fifteen years ago the Sundbergs new home was about 85% complete when Hurricane Katrina tore through their Mississippi neighborhood. FEMA had taken aerial photos showing it as the lone survivor among blocks and blocks of bare foundations where their neighbors' homes once stood.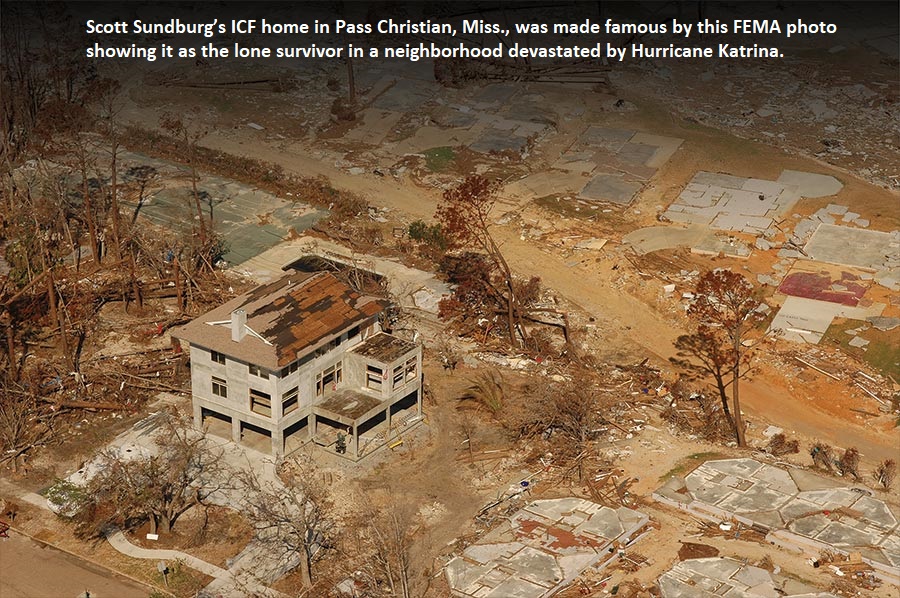 A Better Way to Build
The singular difference may lay in their decision to construct a reinforced concrete home using insulating concrete forms (ICF) as opposed to wood. A home constructed in this manner can withstand winds over 200mph and protect its occupants from flying debris from both hurricanes and tornadoes. But a home built in this manner not only offers safety and security during a natural disaster it is also many times more energy efficient saving the homeowner's money as well as natural resources provided by our shared environment. We hear terms like sustainability and resilience loosely and often thoughtlessly thrown around: homes built like this can easily serve as definitive examples.
Sustainable and Resilient
The Sundberg home is not a lone example nor is there any area of the country immune to comparable devastation from many different forms of natural and man-made disasters (wind, water, fire, etc.). The answer is an all hazard design response that provides a resilient and sustainable solution that is relatable, attainable, and affordable for all families. I was fortunate to be involved in the construction of a model of such a home, aptly termed "HurricaneStrong". The house provides 4-dimensional resilience and is a prototype or artifact that can be cited as an example, serve as a platform for further innovation, and studied for long-term performance against shocks and stresses along with energy savings. There is considerable information available online (and on my website… https://synergygreenbuilding.com/hurricanestrong/ ) regarding this home built to replace a home destroyed in Breezy Point, Queens NY in the wake of Superstorm Sandy (2012). The project plans as designed by Brooklyn based +Labs Architect are being made available free to anyone in hopes of finally changing the way we build. We can't always run and we certainly can't bury our head in the sand; we need to be able to shelter-in-place and we must be able to recover quickly for everyone's benefit.
Some may suggest that I have a vested interest as someone that builds reinforced concrete structures with ICF's exclusively. My answer to that is Yes – absolutely. To go back to the earlier analogy I cited regarding comparing new car construction to new home construction I will remain ever thankful that when my wife's car was struck, flipping it over, it had been constructed with multiple airbags allowing her to be rescued from the car with not so much as a scratch. My hope is that the homes and buildings we build can provide similar blessings. There is a better way to build.